Carpet Cleaning and Carpet Repairs
Carpet Cleaning and Carpet Repairs is a popular service in every city. Business is booming and the rental business is very active in all States.  If you are buying commercial real estate or residential property,  chances are that you will need the carpet cleaned or repaired.  We invite you to take a look at the carpet cleaning companies below and see if one of them fits your needs.
If you are a carpet cleaning company, we want to hear from you.  Besides showcasing our personal clients, we will show case you too. We do review your website and take a look at your reviews.   If you want to be considered, please use our Contact Form and let us know about yourself.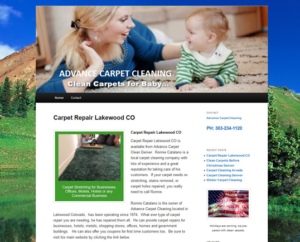 Carpet Clean Denver Colorado
Advance Carpet Cleaning of Lakewood has been serving the Denver area since 1974.  A very popular carpet cleaner and carpet repair business.  Very honest company with very reasonable rates.  Advance serves all the Denver Metro cities including, Arvada, Aurora, Brighton, Commerce City, Denver, Englewood, Golden, Highland Ranch, Lakewood Littleton, Northglenn, Parker, Thornton, Westminster and Wheat Ridge.
If you have carpet holes, carpet burns, this is the company to fix those carpets.  This website listed is a blog for the main website.  Be sure to visit both.
Advance Carpet Clean Denver
Serving Denver and the Denver Metro Cities since 1974.  The company specializes in cleaning carpets, carpet repairs and upholstery cleaning. They offer the best rates in all the Denver Metro area.  Coupons are available on the main website too.  
If you are looking for an experienced company with the ability to repair your carpets too, this is the carpet cleaning company. Visit the main website and see all the options available to you.  
If you need a quick quote,  call Ronnie Catalano.  He is available for questions and a quotes.